Bohemian fashion design
How to Start a Modern Bohemian Clothing Business Online
Guest post by Tomas Smith with Sewport.com

Are you interested in launching a bohemian clothing line? First, it's important for you to keep in mind that bohemianism is a lifestyle rather than a fashion trend. Bohemians desire exquisite and beautiful things, especially in their clothing so it is important your designs and textiles are bold and irresistibly unique.


While starting a clothing line can be time-consuming, it'll come with great satisfaction.
► Decide on Your Niche
Since starting a clothing line is a personal decision, it's likely that you have a vision in mind for your
target audience. Whatever your reason for starting a business, it's important to define your niche. Do you have a certain bohemian style or design in mind for your clothing line? Casual Bohemian businesswear? Sporty bohemian activewear? Affordable bohemian wedding dresses, menswear, baby clothes, etc?
It could also become a clothing business that's addressing a particular need such as eco-friendly or cruelty-free clothing.
Get to know your niche and keep it in mind, even if you want to include other designs as time goes on, your original concept will establish your brand. It'll provide you with a guiding principle, heritage, and a reason why people should purchase it.
► Create a Business Plan
You're also going to need a
business plan
. This will provides you with an outline and overview of your business. The overview is known as the executive summary while the outline determines how your clothing line will start, grow, and expand. As part of your analysis efforts, you need to understand the target market and its competitors.
Your business plan should be concrete, data-oriented, and something that can be done with external sources. You can also provide your opinion on what's going on with the current market. In your outline, you should include each of your employee's roles in the business unless it's just you.
You should also include details for advertising, branding, marketing, sales, and operations. Whoever gets to read your business plan will have money on the mind. You need to finish your plan with an outline of your clothing line's financial position, possible investments, and priorities for growth.
► Create a Budget
When
coming up with a budget
, it's important to keep things simple. Starting with just one design is easier trying to launch with an extensive product catalog. It's also important to have a budget in mind, and determine how you're going to spend that money, along with your goal. You may not be aware of the price of materials and manufacturing costs.
Having a budget in mind will allow you to make smart business decisions that will impact your sales. Your budget is also dependant on whether you'll decide to design the clothes yourself or through a manufacturer. No matter what you decide, start off small; use basic tools or small designers and then you can change them as demand grows.
► Make a Pattern
As previously mentioned, you should start with one design. You want to make sure that you like this design before moving forward. Which piece do you want to start out with? A blouse? A skirt? A jacket? Which fabric do you want to use for that piece? Choose one design and create a pattern for it.
You can create a pattern yourself or have your manufacturer create the pattern for you. Most manufacturers provide a pattern or sample. If you're working with a manufacturer, sketch the design and include the details that you want. Be as detailed as you can when it comes to your vision and design.
►Create Your Designs
The most exciting part of starting a clothing line is the
product development process
. Once you have your sketch, you can turn that rough idea into digital sketches. A software program like
Adobe Illustrator
can do the work for you. Once the sketch is done, you need to convey the information to your manufacturer.

This includes the item's details and specifications. This can range from accessories to features or designs to measurements. Then, you'll need to focus on grading and pattern making, so you're ahead of your manufacturer.



►Find a Garment Manufacturer
Now it's time to find a garment manufacturer.
Sewport
CEO Boris Hodakel says your best source to find manufacturers is the internet. Contact the top 5 to 10 results and find out their minimum order requirements and how much a sample costs. If you don't want to start with a large volume, then choose a manufacturer that doesn't require minimum orders.
Bohemians love ethnic textiles and patterns and finding a garment maker to create your items using those materials might bring up the idea of outsourcing; but outsourcing brings up ethical and human rights concerns that you might not be able to see yourself because the clothing is being made so far away. Issues like low pay and poor work environments plague are rampant in many countries so it is highly recommended you find a local manufacturer so you can check in to ensure the quality of your clothing and their working conditions. Search for local manufacturers and facilities that you're interested in working with; this will also save on shipping costs and time.
For more information about how neglectful some garment producers can be please read the Wikipedia article,
2013 Dhaka Garment Factory Collapse.
America has artisans from all over the globe, so if you're desiring authentic ethnic textiles, I'm sure you can find them right in the good old US of A.
► Bring it to the Market
Congratulations! Now it's time to bring your product to the market. It's time to focus on selling your product. There are several factors you need to face before shipping that first item. During this time, you should consider how you'll create an
online store
, market your brand, price your products, and ship your products.
This information may be already included in your business plan, but it's best to go over these details before you focus on full-scale production.
Whatever route you decide for your clothing line, it's about taking the first step. There are several ways to launch your clothing line but since you'll never stop learning, the best step is to go for it.
Are you interested in writing for my blog?
Please visit this post for blog post submission info!
_____________
You might also enjoy these other posts!
Find Your Tribe! 60+ Hashtags for Bohemian/Hippie Bloggers and Business Owners
The Ultimate Guide to Extreme Frugality
How to Live Frugally in Luxury Like a Bohemian
______________
And now a word from our sponsors!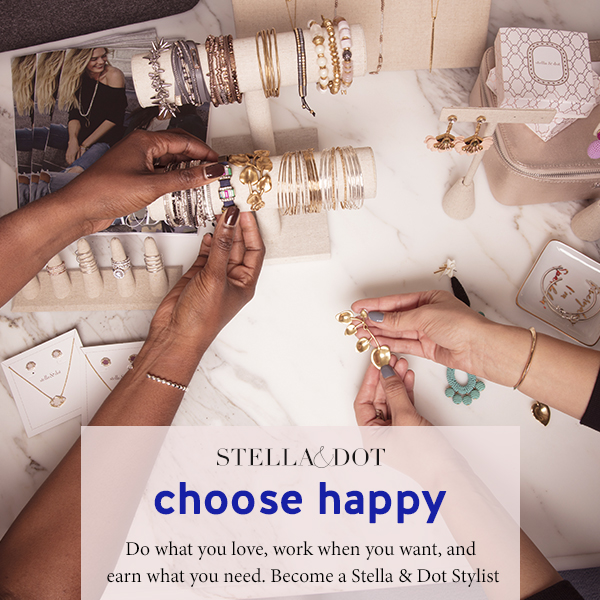 Do what you love
BECOME A STELLA & DOT STYLIST
EARN INCOME
Sell S&D product in person and online. Earn 20%-35% commission.
WORK FLEXIBILITY
Be your own boss, choose your hours, work from home and on the go.
LOOK GOOD
Enjoy a 25-50% discount and earn free products.
DO GOOD
When you sign up, we'll donate $50 in product to Dress for Success
Click the image above for more info!!
______________